Self-portrait, crayon on paper, c. 2004
ART
is doing something that communicates with the human senses.
When I start to paint, I really don't know where it will lead me to. I am not wholly aware of what will be the resultant image or subject. However, I believe that every paint-stroke that my brush applied on the canvas creates a form and occupies space in a two-dimensional aspect. In this sense, I respect and approve the nature of accidents in my paintings; I feel a sense of freedom and wonderment. It is always interesting to investigate and see the unseen. As what Renoir said, "There is something in painting which cannot be explained and that something is essential". One good example was when I painted a series of swirling figures which looked like an embryo. I even painted a positive sign on the faces of one of those series. After two weeks, I found out that my wife was pregnant. The experience made me wonder and found myself writing a statement about painting from the subconscious, the repository of the conscious. I ended up with the word FLUIDICISM (pronounced as fl(ID(ssm).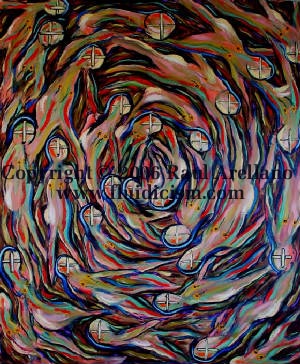 Freedom with
Loving
Union
Involves
Daring the
Inevitable to
Converge
Ingenuity with the
Subconscious
Mind
GENERAL PRINCIPLES
FLUIDICISM is a concept which advocates that one paints from the subconscious.
FLUIDICISM is a philosophy that views painting as an artist's expression of impressions that dwell in his subconscious.
FLUIDICISTS are painters / artists who oppose the use of photographs as aid in their works.
FLUIDICISM is an earnest try to "listen in" and let flow, as water does, original visual forces.
FLUIDICISM is an artistic interpretation of what nature (or the physical world) is not, but what the subconscious sees it to be. Raul D. Arellano 12/28/2003